Request for the Issue of a NOTAM
By Executive Manager, Operations 2398 downloads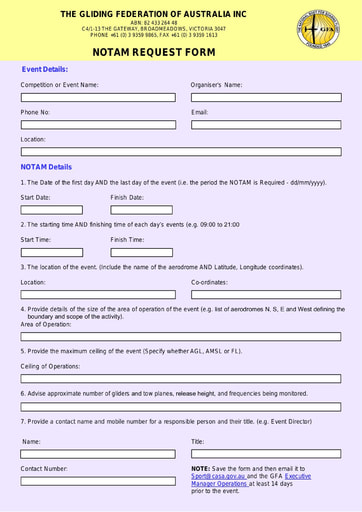 This form is to be used by organisers of approved gliding competitions, regattas or other intensive gliding activities to request CASA to issue a NOTAM.
NOTAMS are an effective means of advising pilots of changing circumstances at a particular location, and the time frame, areas and levels that these changes will affect.
This form shall be used to notify CASA of the dates and contest area, and must be forwarded at least 14 days in advance to permit NOTAM action to be taken.
Once the form has been completed, it should be emailed CASA's Sports Aviation Office at This email address is being protected from spambots. You need JavaScript enabled to view it.. The GFA's Executive Manager Operations should also be copied into the email.