Aerotowing Permission, Direction and Exemption - Instrument
By Executive Manager, Operations 133 downloads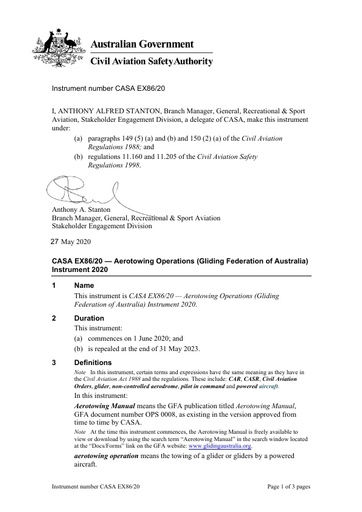 This instrument provides pilots endorsed by the GFA with permissions, directions and exemptions in respect of certain provisions of the Civil Aviation Regulations 1988 (CAR) and Civil Aviation Order 29.5 (CAO 29.5). The instrument enables these pilots to conduct aerotowing operations.
The instrument applies to holders of Glider Towing Certificates issued by the GFA that are pilots in command of aircraft conducting aerotowing operations. The instrument provides these pilots with permissions and exemptions in respect of certain flight rules and operational requirements prescribed in CAR, enabling the aerotowing operations to take place in accordance with the Aerotowing Manual.
The Aerotowing Manual sets out the guidelines and rules for the towing of gliders, including take-off and glider towing techniques, and certain aircraft maintenance and inspection matters. The Aerotowing Manual also prescribes the required qualifications, eligibility and competency standards for the GFA's issuing of Glider Towing Certificates and the associated glider towing endorsements to pilots.
In accordance with subregulation 98 (5D) of the Act, the Aerotowing Manual is incorporated as approved by CASA from time to time. The Aerotowing Manual describes the procedures to be followed for glider towing operations conducted under the auspices of the GFA.