CASA Human Factors For Pilots
By Executive Manager, Operations 96 downloads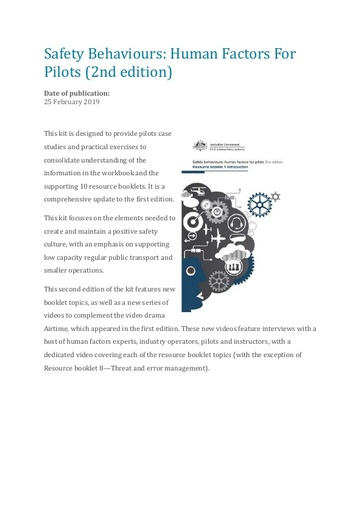 This document provides links to CASA's Human Factors for Pilots Kit.
This kit is designed to provide pilots case studies and practical exercises to consolidate understanding of the information in the workbook and the supporting 10 resource booklets. It is a comprehensive update to the first edition.
This kit focuses on the elements needed to create and maintain a positive safety culture, with an emphasis on supporting low capacity regular public transport and smaller operations.
This second edition of the kit features new booklet topics, as well as a new series of videos to complement the video drama Airtime, which appeared in the first edition. These new videos feature interviews with a host of human factors experts, industry operators, pilots and instructors, with a dedicated video covering each of the resource booklet topics (with the exception of Resource booklet 8—Threat and error management).