Gliding Related Accident Procedures
By Executive Manager, Operations 3445 downloads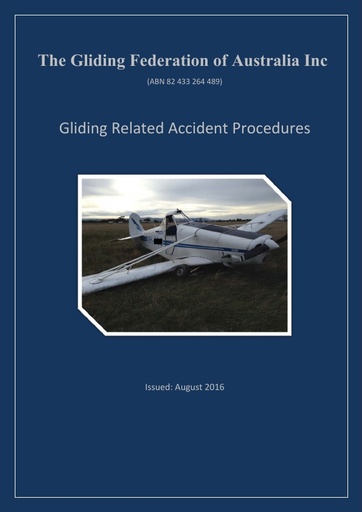 The first people to arrive at an aircraft accident site can significantly help minimise injury and loss of life, reduce property loss through damage and fire, and prevent loss of clues and evidence as to the factors that contributed to the accident.
To preserve evidence for an effective investigation, it is essential to appropriately manage and control the accident site.
Often, emergency services (Police, fire brigades and ambulance) are the first trained personnel at aircraft accident sites.
This document provides guidance to gliding club members dealing with an aircraft accident at their gliding site, and it should be read in conjunction with the Club's Risk Management Plan and Emergency Response Plan. The guidance herein should help members undertake essential actions as safely as possible.