AIRW-M03 DI Handbook Rev.4_2 2022.09.12
By Tim Shirley Tagged in AIRW-M03, DI 10747 downloads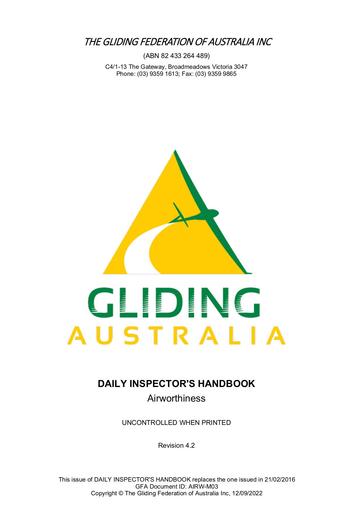 The Daily Inspection is required to establish that the glider is fit for flight for that day's flying operations and certify that in the Maintenance Release. 
A good Daily Inspection is essential in avoiding incidents and accidents, by finding faults in or issues with the glider before it flies.  A person holding Daily Inspector authorisation therefore plays a front line role in incident and accident prevention, and in continuing to keep the glider airworthy.
This Daily Inspection Handbook provides GFA members with the requirements, procedures and education required of a Daily Inspector in carrying out a DI of a glider as mandated under GFA Ops Reg 5.3. 
The information contained in this handbook is directed to gliders.  Although powered sailplanes and power-assisted sailplanes are covered briefly, a separate handbook is available for these aircraft.